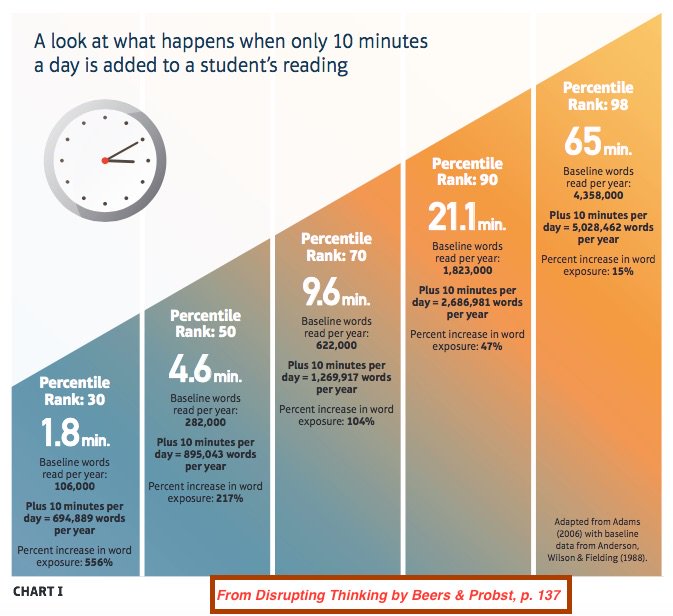 This graphic to the right is solid gold:  The difference between top reading scores and bottoming out could be just 20 minutes of daily reading.  Via @KyleneBeers.
…  Next up:  This article was a standout, questioning the way we structure school and our attitudes about so-called failure:  Standards, Grades And Tests Are Wildly Outdated, Argues 'End Of Average.  Via @anya1anya
Just a quote from my friend Robert Ward which gave me this top tweet with 24 engagements:  "Kids do not need abundance of gifts, they need frequent bouts of undivided attention." This is from @RewardingEdu's book A Teacher's Inside Advice to Parents.
I have been reflecting and reflecting on what learned when I read Agatha Christie's biography.  Ten ideas about writing that helped make her great:  What Agatha Christie taught me about novel writing .  The most important one, I think, is that it's clear she didn't worry over revising or criticism too much.
This fine article about parenting an LD child through a crisis also has a kernel of wisdom about the unreasonableness of allowing oneself to be consumed by fear: Learning Disabled- Weathering The Storm Within  … via @laurie_azzi
Finally, an old question in a new wineskin: To Extend the School Year/Day or not: That is the Question. via @MatthewAKraft
To prevent this April post from running any later into May, that's all I've got.